Brau Union Österreich AG 2016
2.348
employees
__
8 breweries
__
32 warehouses
__
55 sales partners
__
14 beer brands
__
more than
100 beers
more than
5,0 million hl of beer sold
__
Strongbow in our product portfolio since 2015
__
around
49.000 customers
__

approximately
707 million euros in revenues
__
72 million euros
in investment
__
Our sales markets
Our brands are very strong in specific regions of Austria and our primary sales areas are anchored in those regions. Furthermore, our export sales exhibited continuous growth in 2016. The Gösser brand is particularly sought after in our export portfolio: More than 90,000 hl of Gösser was brewed in Austria and sold in Italy and Germany in 2016. Of this, 70,000 hl went to Germany, primarily in the form of Gösser NaturRadler (shandy), while approximately 25,000 hl was destined for Italy. Approximately 470,000 hl of Gösser beer was brewed in Russia and 120,000 hl in Hungary under license in 2016.
Company profile
Brau Union Österreich is the ­largest brewing group in ­Austria and has been a part of the HEINEKEN family since 2003. Our core business is the production and sales of beer, beer-based beverages and innovative products as well as trading in all kinds of beverages – from wine to international beers and soft drinks. It goes without saying that Brau Union Österreich is committed to using only the best raw materials to produce beverages of the highest quality using sustainable ­practices.
Our dedication to sustainability was recognized by multiple awards in 2016:
European Business Awards 2016 National Champion
CSR Corona 2016 for our collaboration with the Austrian Institute for Addiction Prevention "Institut Suchtprävention, pro mente Oberösterreich" on the topic of "Responsible Alcohol Consumption", which is directed toward teenagers
"Umweltschutz-Zertifikat" (environmental protection certificate) given by the Austrian Postal Service
GREEN BRANDS Austria 2016/2017 Seal for recognition as a company which makes a significant contribution to environmental and climate protection in Austria
Energy Globe 2016 Styria & Energy Globe 2016 Austria for our exemplary project "Göss – the Green Brewery"
IEA SHC Solar Award for our exemplary project "Göss – the Green Brewery"
EU Sustainable Energy Award 2016 for our exemplary project "Göss – the Green Brewery"
Ökoprofit Award 2016 for our commitment to sustainability at our Puntigam location
klimaaktiv mobil for our projects aimed at reducing CO2 emissions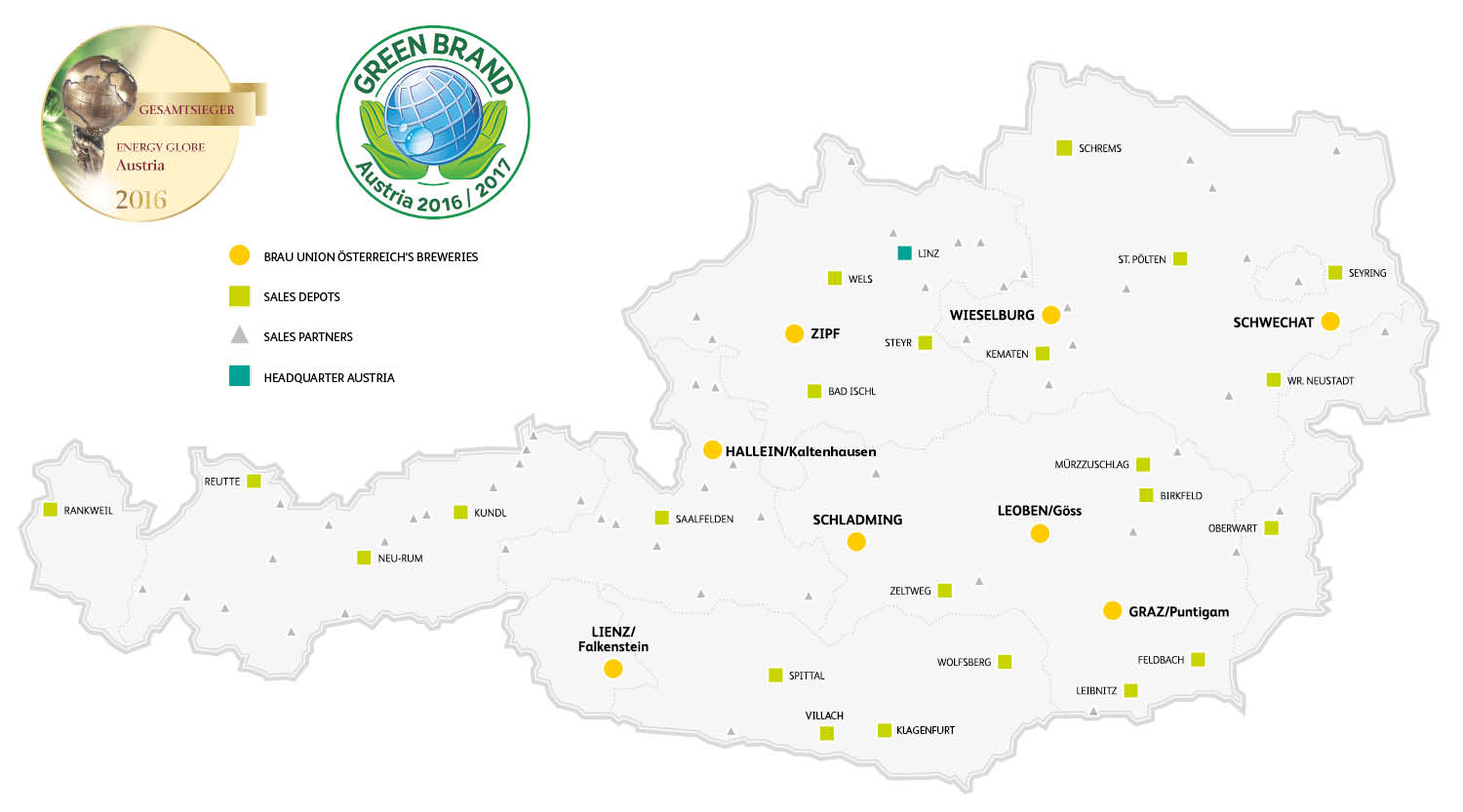 What drives us: Our vision and our values.
It is a clear vision indeed that guides all activities at Brau Union Österreich. This applies to all actions ­taken as a company as well as to all of our employees:
BRAU UNION ÖSTERREICH – HERE'S TO YOUR HEALTH! THE BEST BRANDS AND SUSTAINABLE BEER CULTURE. ­ANYWHERE. ANY TIME.
In order to breathe life into our vision, its principles and values must first be defined:
The basis of our business practices:
The HEINEKEN Code of Business Conduct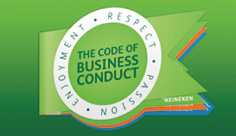 Clearly defined principles govern our everyday operations: fairness, integrity, adherence to the law as well as respect for our company values. The guidelines set down in the HEINEKEN Code of Business Conduct form the basis for these principles. We have developed and implemented a "Speak Up Policy", which makes it easier to identify misconduct. The policy not only helps us fight corruption, it also serves as a tool for identifying any issues pertaining to environmental and social principles, thus complying with the UN Global Compact, the OECD guidelines and the International Labor Organization (ILO).
Directions for a path to success:
The HEINEKEN "Greenprint to Win"
The HEINEKEN "Greenprint to Win" defines our principles and values. It shows us where we want to go as a company and helps us attain our goals while adhering to our HEINEKEN Code of Business Conduct.
Safety for everyone
At the end of the workday, we all want to go home safely and in good health, thus our own safety and that of others is our first priority. This extends past the doors of the brewery – for everyone at all times.
Act like a business
Our company – that is who we are. This is why all of our employees take responsibility and act as if they were the owners of the company. We want to be in the lead, so we are constantly looking for opportunities to strengthen our company.
Strong together
The concept of "we" is more important to us than "I". We believe in the power that can coalesce when a ­diverse group of people come together and cooperate. We all are working to achieve a common goal, with our managers leading by example.
Efficient with minimal bureaucracy
A global dimension combined with a strong local market presence is our best asset. This requires a disciplined compliance with mutually agreed upon measures. We do not waste time on internal bureaucracy and unnecessary steps.
Keep it simple!
We want to concentrate on important things, like achieving success on the market. This is the reason we keep internal processes as simple as possible. If the processes are simple to explain and carry out, there is less chance for error.
Success through learning
We are open and ready to learn. We continue to develop and innovate, while bearing past lessons in mind. We value experience as the fundamental company value. Individual learning experiences form the basis for our commercial success.
"BREWING A BETTER WORLD" – our sustainability strategy and its dimensions.
As Brau Union Österreich, we have a clearly ­defined goal for sustainability: create the best Austrian beer culture for the future while ful­filling the demands of society and the environment – for the good of all.
We are working to achieve this goal according to the strategy developed by HEINEKEN – "Brewing a Better World". This strategy comprises all areas of our core operations, starting with the raw materials in the field, continuing through the entire production process at our individual breweries and finishing with our customers and consumers.
Our sustainability strategy incorporates six key areas, each with challenging goals:
protecting water resources
energy consumption and reducing CO2 emissions
sourcing sustainably
advocating responsible consumption
promoting occupational health and safety
growing partnerships for the future
HEINEKEN's company-wide program "Brewing a Better World" serves as the basis for pursuing this goal. The program comprises all areas of our core operations, starting with the raw materials in the field, continuing through the entire production process at each facility and finishing with our customers and consumers.
In addition, our "Brewing a ­Better World" strategy is aligned with the "2030 Agenda for ­Sustainable ­Development" released by the ­United Nations in September of 2015. We have crafted our "Brewing a Better World" strategy to address the 17 global development goals of the United Nations (Sustainable ­Development Goals) along with the ­associated 169 subordinate targets.
The figure below shows how our six primary ­focus points can contribute to these global development goals. The focal points ­Responsible Consumption as well as Occupational Health and Safety both support goal 3 of the agenda ("Good Health and Well-Being for People of All Ages"). The focal point Sustainable Sourcing contributes to goal 8 ("Decent Work and ­Economic Growth") as well as to goal 12 ­("Responsible Consumption and Production").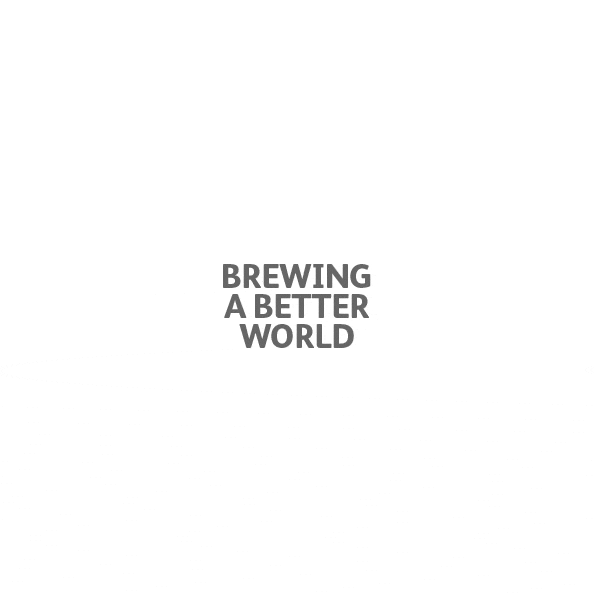 Sustainable Development Goals (SDG) of the United Nations.
OUR PRIMARY FOCAL POINTS

Good Health and Well-Being for People:
Ensuring healthy lives and promote well-being for all at all ages

RESPONSIBLE CONSUMPTION
zero tolerance for any kind of alcohol abuse, so our activities revolve around education, information and prevention
initiatives from the Göss, Puntigam and Zipf breweries
alcohol policy for all employees of Brau Union ­Österreich
focus on the development of reduced-alcohol and non-alcoholic beers
collaboration with the organization pro mente OÖ on the topic of alcohol and teenagers


OCCUPATIONAL HEALTH AND SAFETY
occupational health management: occupational health management initiative "Fit on the Job", preventative behavior and reintegration
safety coordinators at all locations – reduction of work-related accidents to a minimum


PARTNERSHIPS FOR THE FUTURE
regular communication with our stakeholders
collaboration with universities, universities of applied sciences, NGOs and businesses

Quality Education: Ensuring inclusive and equitable quality education and promote lifelong learning opportunities for all


PARTNERSHIPS FOR THE FUTURE
cooperation with the vocational trainee initiative "Amuse Bouche" on the topic of beer culture and responsible alcohol consumption
cooperation with pro mente OÖ on the topic of alcohol and teenagers: production of the film "Too Fast", which is used in schools across the nation to educate teenagers about alcohol
TRAINING COURSES FOR EMPLOYEES
beer sommelier/biersommelière certification in cooperation with the Austrian brewery association
Brau Union Österreich trainee academy
additional training courses (also offered through our e-learning platform)

Clean Water and Sanitation: ­Ensuring the ­availability and sustainable management of water and sanitation for all


CONSERVATION OF WATER RESOURCES
The goal is to reduce the specific water consumption (hl water/hl beer) to a minimum through efficiency measures. Since 2008, we have decreased our specific water consumption by 43.9%. At 3.2 hl of water per hl of beer, our specific water consumption value is one of the lowest, and therefore one of the best, in the world. On average, the HEINEKEN family consumes around 3.6 hl water per hl of beer produced.
The water we use comes exclusively from Austria. The majority of the water comes from our own ­natural springs and deep wells.
We try to reintroduce the process water used in our breweries back into the hydrologic cycle. The ­allowable limits for wastewater emissions specific to our industry are clearly defined in the regulations governing emissions. We test our water, both internally and externally, to ensure that our effluent remains within these limits. For the entire year of 2016, all of the values fell within acceptable limits.

Affordable and Clean Energy: Ensuring access to affordable, reliable, sustainable and modern energy for all


ENERGY CONSUMPTION AND CO2 EMISSIONS
Since the baseline year of 2008, we have been able to reduce our specific total energy consumption by more than 10% (thermal energy -9.9%, electricity -12.5% per hectoliter of beer). We achieved these improvements through an incessant desire to ­progress in a targeted manner:
exclusive utilization of "green" electricity
continuous replacement of fossil fuel energy with renewable energy
efficiency measures in the production area, ­packaging as well as in refrigeration equipment for customers
continuous measurement of the CO2 footprint and calculation of the product environmental footprint
Best Practice:
– Göss – the Green Brewery: CO2– neutral production through utilization of renewable energy sources and our own generation of renewable energy
– Logistics: We only invest in low-emission EURO6 trucks and use them to replace our older trucks. Likewise, we are also replacing gas and diesel-­powered forklifts with electric forklifts. The Göss Brewery currently has two trucks powered by natural gas.

Decent Work and Economic Growth: Promotion of constant, inclusive and sustainable economic growth, full and productive employment and decent work for all

Partnerships for Goals: Strengthening the means of implementation and revitalize the global partnership for sustainable development


PARTNERSHIPS FOR THE FUTURE
Cooperation with "Jugend am Werk Steiermark": With the project "Re-Use-Design", people with disabilities help manufacture key chains using bottle caps from our different product brands. The key chains are then given to customers as gifts. The project has made it possible for nearly a dozen people with disabilities to receive meaningful employment.
Cooperation with "alpha nova" in Graz: As part of a cooperation with alpha nova, the Puntigam Brewery regularly hires people with disabilities.
Cooperation with "assista Soziale Dienste" Vöcklabruck: In 2016, assista launched a collaboration project with the Zipf Brewery. This project made it possible for four individuals who had previously found it difficult to find gainful employment on the job market to find a suitable position.
Cooperation with the social welfare organization Diakoniewerk Schladming: The Diakoniewerk Schladming offers people with mental and multiple disabilities employment opportunities tailored to their specific needs. As a project partner, the Schladming Brewery provides meaningful employment to disabled people, allowing them to participate in working life and to enjoy the benefits of a structured day.
Cooperation with "Arge Chance" in Schwechat: The organization Arge Chance is a socio-economic enterprise supported by the AMS and the state of Lower Austria. It offers jobs to the unemployed of all ages, including vocational training as well as short-term social care. For the last five years, the Schwechat Brewery has partnered with Arge Chance to offer individuals with disabilities gainful employment.
"Beery Collaboration" with the Austrian television broadcaster ORF: Hofbräu Kaltenhausen brewed the "ORF Fernsehgartenbier" in 2016. The beer was served at various ORF events, at the brewery restaurant and at the beverage shop in Kaltenhausen in exchange for a charitable donation. Proceeds went to the immediate response fund "Licht ins Dunkel" to benefit needy families in the Tennengau region of Austria.


SUSTAINABLE SOURCING
We adhere to the principle "Made in Austria". We source the majority of our raw materials from regional suppliers with whom we foster long-term relationships. This helps guarantee that jobs remain in the country and generate local value for the community: 82% of our malting barley is farmed in Austria and 93% of our hops are grown in the Mühlviertel/Leutschach region.

Responsible consumption and production: Ensuring sustainable consumption behavior and production practices


PROTECTION OF WATER RESOURCES
In order to protect the purity of the water used in production of our beer from negative environmental effects, we have set aside areas to protect water, which we monitor carefully. Our goal is to constantly reduce water consumption at all of our locations.
Best Practice:
– At the Schwechat Brewery, a new water treatment unit (reverse osmosis) for brewing liquor was commissioned.
– At the Puntigam Brewery, optimization of the existing belt lubrication equipment reduced water consumption as well as lubricant consumption. A new cleaning and monitoring program lowered the amount of water consumed in the bottle washer.


ENERGY CONSUMPTION AND CO2 EMISSIONS
Thanks to the increased proportion of renewable energy, emissions from our production process were restricted to 2.93 kg CO2e/hl beer. This represents a reduction in CO2e emissions of 45.3% since 2008. Viewed in terms of the HEINEKEN goal for the year 2020 of 6.4 kg CO2e/hl beer, our emissions are ­relatively low.


SUSTAINABLE SOURCING
From the field to the bottle and from the grain to the customer, we actively implement measures to protect the environment. To guarantee that the raw materials for our beer are cultivated in a sustainable manner, we source our raw materials regionally and work closely with farmers in Austria. This not only creates greater value for our company but also for the Austrian community.

Life on land: protection, renewal and demands for the sustainable use of terrestrial ecosystems, sustainable utilization of forests, prevention of desertification, halting and reversing land degradation and stopping the loss of biological diversity


PROTECTION OF WATER RESOURCES
In order to protect the purity of the water we use in beer production from negative environmental effects, we have developed areas to protect water and monitor it carefully. This is even more significant as some of our breweries are located in sensitive watershed areas. For instance, Schwechat borders on the Danube floodplain national park, Wieselburg on the Natura 2000 Erlauf floodplain and Göss has its own protected reserve for natural springs in Leoben.
Best Practice: We protect biodiversity in ­natural aquatic habitats, for example, by supporting ­projects involved in building fish ladders in Zipf (Redl) and Wieselburg (Erlauf).
How we implement the "BREWING A BETTER WORLD" strategy.
The table lists the goals we plan to attain for the year 2020, those set for 2016 and those which have already been achieved.
How we implement the "Brewing a better World" strategy:
The table lists the goals we plan to attain for the year 2020, those set for 2016 and those which have already been achieved.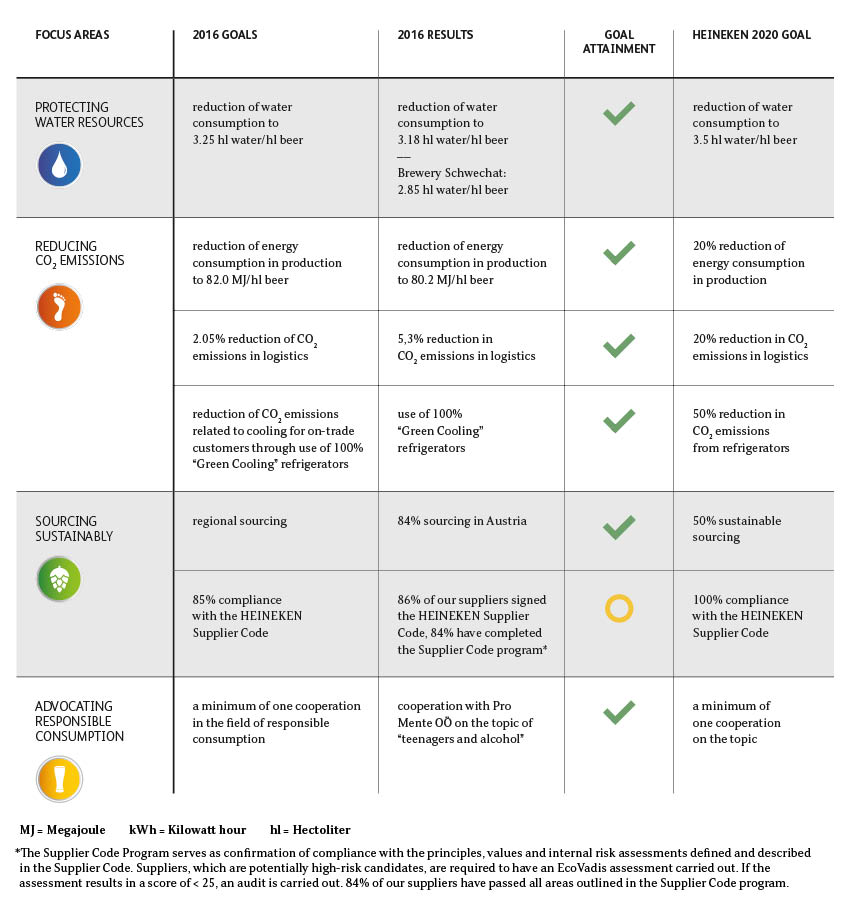 From the grain to the glass: The five sections of our value chain.
Our value chain is based on the life cycle of a beer. It can be divided into five general areas and this is exactly where we apply our "BREWING A BETTER WORLD" sustainability strategy and initiatives.
1. Raw materials from the region
In order to guarantee that the raw materials for our beer are cultivated in a sustainable manner, we source our raw materials regionally and work closely with farmers in Austria. This not only creates greater value for our company but also for the Austrian community.
2. Sustainable production
We strive to minimize the environmental footprint of production at our five large breweries, two specialty breweries and one specialty production facility by recycling brewery by-products as feed or fertilizer in agricultural applications.
3. Environmental protection in logistics
Protecting the environment is not simply limited to production processes. We have also implemented initiatives as part of our internal logistics to ensure that goods are transported as sustainably as possible.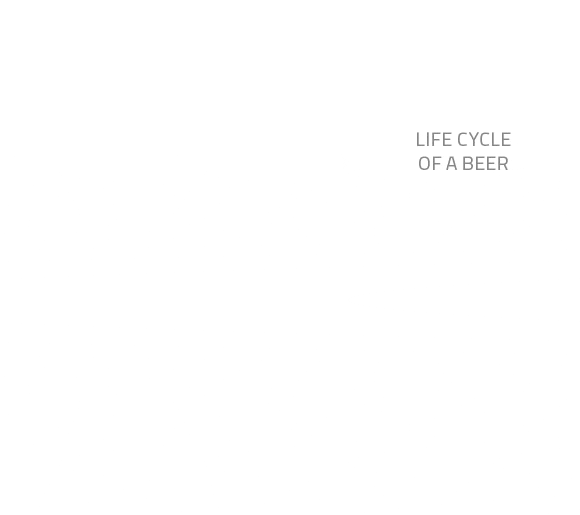 4. Only the best quality for our customers
Whether they are in the restaurant business or a food retailer, our 49,000 customers can be assured: Our products are of the highest quality, delivered on time and to the correct location.
5. The best Austrian beer culture
We stand for the best Austrian beer culture, with clear goals for protecting the environment and promoting social responsibility. As a company, we don't just pay taxes. We employ around 2,300 people and offer them training and education as well as occupational health and safety. We also launch initiatives such as making returnable bottles more attractive to consumers.
We review each of these five areas of our value chain for further options suitable for implementing our sustainability strategy. In the following chapters, more detailed information can be found regarding our initiatives along the value chain.
The principal areas of our sustainability strategy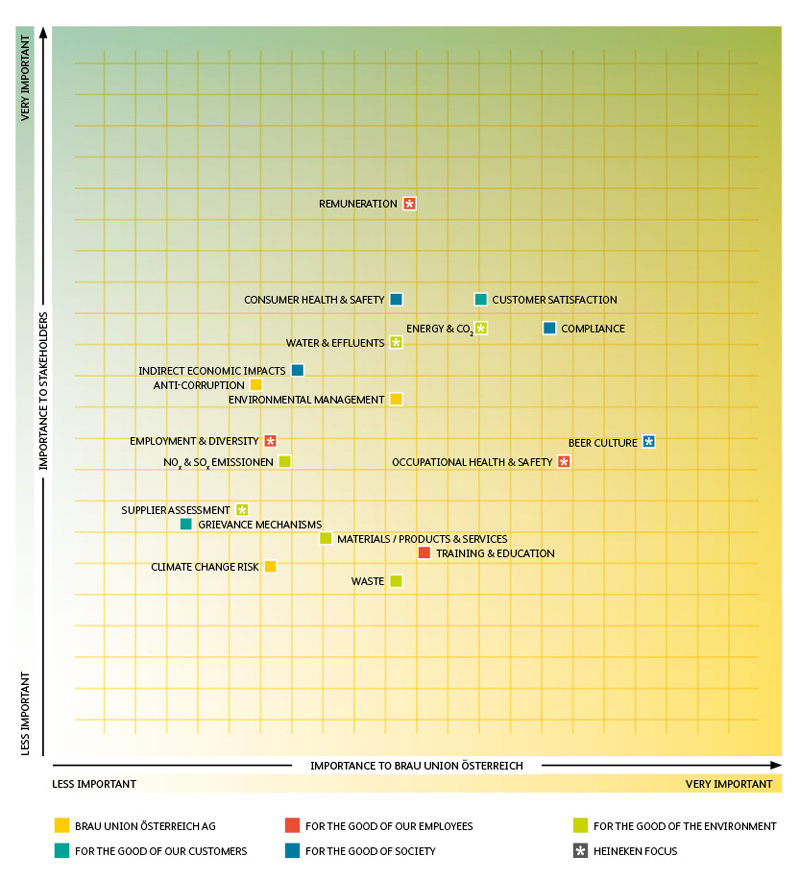 A materiality analysis conducted in 2015 has helped us to identify topics which define our core business – the production and sale of beer – which serve as the focus of this sustainability report. In cooperation with ERNST & YOUNG Wirtschaftsprüfungsgesellschaft m.b.H., a Shared Value Matrix (refer to the Appendix, page 75) was created, which assigned the main topics to the respective stakeholders. In the second step, the sustainability team assessed and weighted these topics according to stakeholder groups. Finally, the essential aspects were also reviewed by the Director General. After a new internal review in 2016, the final matrix was created.
In addition, the graphic shows how the goals of the HEINEKEN strategy "Brewing a Better World" are integrated in our materiality analysis and which priority they have at Brau Union Österreich.
The individual aspects integral to our vision are described in the following chapters:
Brau Union Österreich
anti-corruption, risks posed by climate change
environmental management, energy and CO2, NOx and SOx emissions, water and wastewater, materials/products and services, waste, supplier evaluation
For the Good of our Employees
employment and diversity, occupational health and safety, training and education
For the Good of our Customers
customer satisfaction, grievance management
For the Good of Society
indirect impacts on business, consumer health and safety, compliance, beer culture

MerkenMerken
MerkenMerken
MerkenMerken
MerkenMerken
MerkenMerken
MerkenMerken